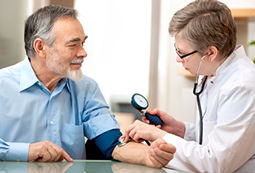 Saint Luke's Hospital is the first medical facility specializing in Preventive Medicine Check-ups in Los Cabos. The hospital offer medical check-ups using cutting edge technology for accurate diagnosis of one's health.
The check-up packages are competitively priced, and the hospital is constantly aware of the community needs to provide the highest quality service at the most affordable costs.
Early Diagnosis is Key.
Early diagnosis gives the possibility to detect many diseases in time, and prevent further complications due to lack of attention. Saint Luke's Hospital is committed to providing the best quality, and in our clinical analyzes the main objective is to offer our customers consistently reliable results. The hospital has designed different protocols from the high-risk diseases most common in Mexico, to a complete range of health check-ups that benefit people most. Read more about each of the health check-ups offered at Saint Luke's Hospital.
Prevention is the better choice.
At Saint Luke's Hospital we know that prevention is the best way to take care of your health. Investing in your health can extend your lifespan and improve the quality of life. There is no better way to start a new year than with the tranquility of knowing about the state of your health, under the supervision of qualified specialists. A regular check-up gives you the possibility to detect any disease in time to avoid future problems. Isn't it smarter to get a health check-up before a disease takes hold?
We offer the following range of check-up packages for accurate diagnosis of your health. All prices in pesos.